WELCOME TO SAINT JOHN THE EVANGELIST


A ROMAN CATHOLIC CHURCH


833 Main Street, Agawam Massachusetts  01001
Mass Times: Saturday - 4 pm  |  Sundays - 8 am, 10:30 am
Daily Mass: Monday, Tuesday, Thursday, Friday - 8 am  |  Wednesday - 6 pm
Adoration: Wednesdays, 12:00 - 5:45 pm | 19th of each month: 7:00 - 9:00 pm
Confession: Wednesdays, 4:30 - 5:30 pm | Saturdays, 2:45 - 3:45 pm

HOLY DAY OF OBLIGATION: Immaculate Conception of Mary
 Monday, December 7:  6:00 pm
Tuesday, December 8: 8:00 am  |  12:10 pm  |  6:00 pm      
Parish Notes
Movie Night: "I Can Only Imagine"
Saturday, December 4th, 5:30 pm in the Gym
________________________________
Advent Morning of Retreat for Women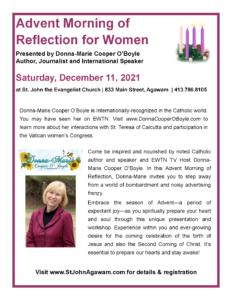 ________________________________
Connect to St. John's with a smart phone or tablet
Announcements:
Faith Formation at St. John the Evangelist Church
Call the Parish Office to learn about how to join RCIA  (786-8105)
Religious Education:
Religious Education: K-11 Religious Education Form, click here...
Bishop Byrne's Five Things I Love About Faith Formation
________________________________________________
Support the "In the Beginning" Preschool Ministry

Our preschool has finally set sail to its permanent location in the lower Parish Center.
Learn more about this new offering and please consider supporting this important mission!
Online donations can be made from our Online Giving page (Select In the Beginning Preschool)

Welcome - We are Blessed to Have You!
We are a Roman Catholic community inspired by the Holy Spirit to follow the example of our Lord and Savior Jesus Christ by sharing, growing, and spreading God the Father's love through our parish ministries, and by coming together as a community in meaningful prayer and worship to celebrate that love.
"In the Beginning" Preschool Ministry LIVE!
"In the Beginning" Preschool Ministry Part II LIVE!